​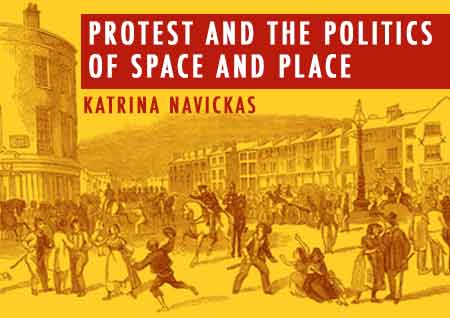 Katrina Navickas (University of Hertfordshire) 5 November 2016


(Report by Ray Stroud)
Dr. Katrina Navickas proved to be a very popular speaker at the Tenth Annual Chartist Convention held last November at John Frost School, Newport. Her talk on the Spaces of Chartism reminded a South Wales audience that Chartism was a movement that impacted on the whole of British society during the 1830s and 1840s. The examples she provided were those from the North of England, of Manchester and Salford, of Leeds and Carlisle. Yet these accounts are as relevant to the story of Chartism as those from Newport, Merthyr and Nanyglo.

Much of the content of her talk derived from her most recent publication, Protest and the Politics of Space and Place, 1789-1848 (Manchester University Press, 2015). In this book she sets out to examine how movements for democracy and workers' rights fought with local and national government over the right to protest in public spaces.
Dr Navickas began by outlining her approach to protest, emphasising why Chartist activity is still of such importance to life in the present day. She emphasised four factors that should be considered when evaluating the significance of the Chartist Movement:

1. Protest is the politics of the street.

2. The Chartists fought against the suppression of protest in public spaces; the freedom to meet was integral to the freedom to speak.

3. The enclosure and privatisation of public space was an issue in the early nineteenth century, restricting when and where political movements could meet; this has parallels in today's society. 'Improvement acts' essentially made town centres more 'middle class' in character, particularly with the railing off of squares and the erection of civic buildings and commercial exchanges. Traditional meeting sites, like marketplaces, were often removed out of town. Improvement acts also provided for an increased police presence in the form of more constables.

4. Chartism drew its strength as a political movement from its grass roots - a local membership that was based in locales, but connected to global movements through its wider ideals and inspirations from the French Revolutions and other global events.
Types of meeting site:
Firstly, although the Chartists sometimes held 'monster meetings', their weekly branch meetings and social events were vitally important, both in keeping the movement going and in drawing wider support for their cause. Secondly, town squares remained important sites for open-air meetings.
During this era of rapid urbanisation, radical groups, and the Chartists in particular, were able to claim and use the 'spaces of making do'; these ranged from building sites, scrubland, warehouses and a variety of other buildings. Of these, perhaps old chapels were the most significance spaces, especially those lent by the Primitive and Independent Methodists. One notable example is of this to be found at Rev. Scholefield's Rotunda chapel on Every Street, Ancoats in Manchester. This is a site of particular interest, as it was here that radical activity was fostered by this Independent minister, from the events of Peterloo in 1819 to Chartism in the 1830s and 1840s.
The longevity of Chartism, and also of the Owenite socialists, enabled these social groups to do what earlier movements had failed to do, namely to erect their own buildings. Halls of science, working-men's halls, Chartist and radical halls and rooms, and indeed other sites, were all edifices that came to symbolise huge levels of achievement. They stood tall against the local elites who had been determined to prevent them from using civic buildings, such as town halls. In Manchester, Chartists began to meet in Stephenson Square, in what had started as a cheese market; in Leeds local radicals were forced to meet in a fish market, in Stockport they met in a working windmill. In addition, there were the 'spaces of liberty': the Chartists often held 'monster meetings' on the moors and fields outside of town boundaries. These were often familiar sites of leisure, traditionally used for religious meetings. Previously chosen by radical and trades as locations for their meetings, they represented freedom from urban control. Radical groups also tended to flourish in 'edgelands' or 'neighbourhoods', and in factory colonies and other areas separated from towns, such as Caldewgate in Carlisle and Charlestown in Ashton-under-Lyne, Lancashire.
British Library Political Meetings Mapper:
As part of her 2015 British Library Labs competition project, Dr Navickas 'text-mined' the Northern Star Chartist newspaper for records of political meetings, and mapped them. For more details of this work, see website: http://www.politicalmeetingsmapper.co.uk
Mapping London sites advertised in the Northern Star, for example, showed that weekly meetings were held across London, but concentrated in Soho and the West End, where there were tailors' branches, and the East End around Shoreditch. Manchester, by contrast, had a concentration of meetings in the most densely populated areas of the town, around Ancoats.
Dr Nivackas is now working with Sam Griffiths, of University College London Bartlett School of Architecture, to develop a 'Space Syntax' map of Manchester in 1849 and analyse political meetings in relation to the street plan of the town. This will give us a more concrete description of how the town works as a spatial system. Their initial findings are:
• commercial exchanges and the parish church are in the most accessible parts of town;
• moors and fields are in the least accessible.
• Chartist meetings congregate around the average in being at sites towards the middle of accessibility and connectivity;
• this compares sharply with trade union meetings, which tended to be in the least accessible sites.
Processions
Processions were, effectively, politics on the move. By 1838, the classic eighteenth-century civic procession was in decline, both in terms of meaning and significance. Compared with the 1831 coronation procession for William IV, in which the trades unions participated, the 1838 coronation celebrations for Queen Victoria were widely boycotted in northern towns. This was, in part, a protest against the lavish expense during a time of economic depression; it was also, in part it, a protest against the New Poor Law of 1834, which had been implemented across northern England to much resistance from late in 1837.
The Chartist processions gradually developed both in form and meaning. While they maintained the symbolism and elaborate organisation of the pre-Peterloo processions, these processions also incorporated some new developments:
1. The grand entry, common in electoral ritual, became a major focus – for example, the processions to meet Dr. McDouall across Lancashire in August 1840.
2. Torchlight processions developed in winter 1839 as an act of defiance when employers in south-east Lancashire banned their workers from attending daylight meetings. The physical threat was apparent, and the practice was prohibited by parliamentary legislation.
3. Chartist processions developed alternative routes. In some towns they generally avoided the same routes of civic processions (e.g. Manchester); while in other towns they used the same routes (Leeds). This difference reflected the differing class politics and municipal Chartism in each town.
4. Chartist processions were also pulled in different directions by two developments: a) the prominent role of monster meetings on moors out of towns – e.g. Kersal Moor in Salford and Hunslet Moor in Leeds, and b) the arrival of the railway. Feargus O'Connor's tour of northern industrial towns in autumn 1841 saw crowds processing to and from the new railway stations to meet him. Railway stations thus became a new site of protest.
For more references and information, visit Protest History
Ray Stroud, February 2017
Editor's Note:
This is very exciting pioneering work. Numerous possibilities immediately spring to mind for application of Dr. Navickas' techniques and principles in our own locality, for example:
1. David Osmond's article published in Gwent Local History Journal 1995 'Chartism in Newport after the Rising of 1839' would be a good starting point for the identification of venues.
2. We need to look afresh at the places used by the Chartists in different valleys – pubs, chapels, outdoor locations, eg why did the Chartists of the heads of the valleys meet at Brynmawr, Rassa, Dukestown, all in Breconshire?
3. Zephaniah Williams' decision to locate at the Royal Oak, Blaina and the network of radicals living and running businesses in the vicinity of John Frost's draper's shop in Newport would be invaluable mini-projects.
4. Why was the Coach and Horses Inn selected as the venue for the last delegate meeting before the rising?
5. Build on work done by some individuals, such as Paul Thomas, exploring the routes taken during the weekend of the 1839 Rising and in crossing the valleys to attend meetings.
6. Compare the contention for spatial control at Pentonville in Newport during the 1830s and the 1930s.
Les James