LIBERTY and SLAVERY

LETTER from Charles Pinney, Mayor of Bristol to Christopher Claxton, 22 December 1831 (1)


ROGER BALL, a member of the recently established 'Bristol 1831 Riots' research group draws attention to a revealing letter written only seven weeks after the city's serious unrest. Mayor Pinney, a political Whig with major financial interests in slavery, was writing to the main organiser of the pro-slavery activists in Bristol. Pinney had not done well during the disturbances (29th- 31st October 1831) and found himself placed on trial for dereliction of duty. Acquitted, he sought to blame the abolitionists for their 'careless use of the terms, liberty and slavery.'
...more than ordinary exertions had been recently made there , by societies formed for the express purpose of emancipating the slaves in the West Indian Colonies, and perhaps more indiscretion shewn in the choice of language applied to those more deeply interested in the West India properties; and the careless use of the terms, liberty and slavery, and the promulgation of ill-digested notions of the very elements of society, arising out of these discussions, and rendered acrimonious by the peculiar character of the times, engendered a spirit in Bristol, (a city to which the West India interest has always been and must ever be of so much importance,) the future influence of which has not yet been either fully weighted or felt. And it is worthy of note, that this spirit arose in direct hostility to the leading interests in Bristol, and a notion was inculcated with great industry among the lowest orders, that the great merchants, to whom they had been wont to look up with respect, were drawing their resources from human blood, and were collecting their revenues through the whip and slave driver. This feeling engendered, the names of slave and master became easily transferrable, whenever the demagogue should find it an object worthy of his art... (2)
Roger Ball writes:
This letter reveals a fracture in the supposed relation of patronage in Bristol, whereby the "lower orders" were showing "direct hostility" (rather than "respect") to the "great merchants" on the basis that the latter were deriving their power and wealth from slavery ("human blood" and "whip and the slave driver"). As Pinney points out, even more worrying for members of the Bristol elite was the fact that the social relation of "slave and master" could be easily transposed from the Caribbean plantations to represent the power relations between the "lower orders" and the "great merchants" in Bristol.
The point about this letter is that it represents an example where the "lower orders" in Bristol were hostile to the "great merchants" on the basis that they profited from slavery and because they felt they were in the "master-slave" relationship themselves. This does not mean that the "master-slave" relationship of chattel slavery can be equated to the bourgeois-proletarian" relationships of 1830s Bristol, but it does show recognition amongst the "lower orders" of that plantation relationship. Although Pinney blames the demagogue (agitator, radical etc.) for brainwashing the masses (which is standard reaction of the ruling class in this period), it appears the horse has already bolted. After all, large numbers of the properties of the West India interest in Bristol had been looted and burned by the "lower orders" a few weeks before.
So, the next time someone claims 'everyone in Bristol' respected and wanted to celebrate the "great merchants" with statues, buildings and road names (Colston for example), I am not sure the 'lower orders' would have agreed in 1831. Just under a week after this letter was written, the great rebellion of the enslaved in Jamaica broke out, putting the final nail into the coffin for British slavery.
(1) Roger Ball found this source whilst editing Mark Steeds's book, From Wulfstan to Colston: Severing the sinews of slavery, Bristol's thousand year battle due to be published later this year by Bristol Radical History Group.
(2)This extract originally appeared in Marshall, P. Bristol and the Abolition of Slavery – The Politics of Emancipation (Bristol: Bristol Branch of the Historical Association, 1975) pp. 23-24.
​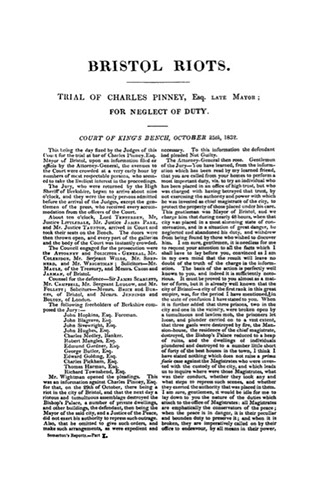 ​Charles Pinney: Born at Bristol 29 April 1793;Son of John Pinney, sugar planter and merchant at Nevis;Lived at Camp House, Clifton;.Whig politician; President of Whig Anchor society 1822; Bristol Councillor 1822-1835; Sheriff 1823-4; Sworn in as mayor 16/09/1831; tried for neglect of duty during the riots - acquitted 25/10/1832; Aldermen of reformed corporation 1835-1853; President of Merchant Venturers 1844-5.Major recipient of compensation with awards totalling £27,267 (£1.4m present day equivalent) in Nevis and St Kitts and British Guiana, primarily as mortgagee, paid out under the Abolition of Slavery in the British Empire Act 1833Died 17 June 1867
https://www.ucl.ac.uk/lbs/person/view/25863
In the elections of the early nineteenth century in Bristol the 'West India interest' candidates both Tory and Whig worked together against the anti-slavery candidates (usually Whigs or independents)
IF YOU ARE INTERESTED IN FINDING OUT MORE about the Bristol 1831 Riots research group: contact Bristol Radical History Group at brh@brh.org.uk