EDITORIAL Newport is Rising 1839 and 2019
The 180th Anniversary of the South Wales Rising
​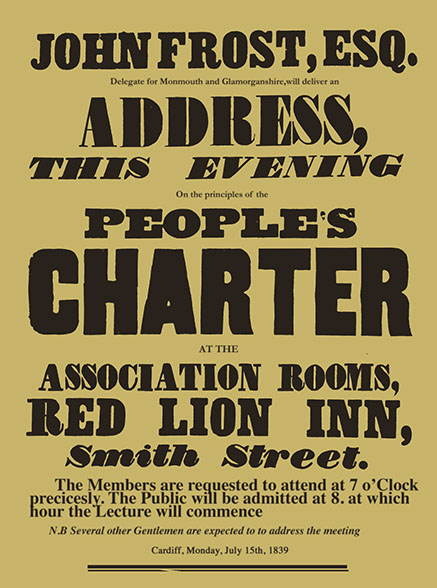 Zephaniah Williams, on his way to Van Diemens Land, wrote in his letter to the ship surgeon, Dr. Alexander McKechnie that Members of the Associations __ Glamorgan & Monmouth shires contained about 50 Associations, and in each from 100 to 1,300 Members, pretty near all organised, and a great number of them Armed. (25 May 1840)
Little is known about most of these 'lodges'. In the wake of the failed Rising (1 - 4 November 1839), lodge secretaries destroyed records. Generally we are only aware of the existence of a lodge if its members contributed to a prisoner's relief fund, mentioned in the Northern Star newspaper or its members had a 'brush with the law', appearing in the courts. The little that is known about the Cardiff lodge is due to a police report and an accompanying poster concerning the meeting they held on 15th July 1839 at the Red Lion addressed by John Frost on The People's Charter.
The People's Charter with its Six Points was a popular set of political demands - and not just amongst the working classes. The Cardiff police report emphasises that within an audience approaching 100, there were a significant number of middle class people present. Perhaps they were just curious and not particularly interested in being activists, but many of the middle classes were keen to 'Reform' Parliament, which they considered corrupt and represented only the interests of the aristocracy and gentry - Chartism really did purport to represent the 99% against the 1%. elite. And it is important to recognise that a high proportion of the population, far higher than the numbers signing the National Petitions for the Charter, accepted and held on to the principles of Chartism long after the movement had ended in the late 1850s.
There were sympathisers in most communities, across England and Wales. The Six Points were particularly popular with artisans and their families, many living in rural villages and small towns. They were demands much discussed long before the London Working Mens Association published the People's Charter on May 8th 1838.
The first Working Mens Association branch in Wales was founded by solicitor Hugh Williams at Carmarthen in late 1836. By 1838 with 250 members, it was sending its 'missionaries' around the west of Wales. Branches are known to have existed at Llanelli, Swansea, and Ystradgynlais, but countless individuals and families in Pembrokeshire and Carmarthenshire, who were influenced, kept their views private for fear of reprisal from landlords and magistrates. It is very likely that Chartist views influenced many of those who participated in or supported the secret night time activities of Rebecca.
In 1837, a branch was established at Pontypool by Bristol men settled in the district and the more than fifty lodges known to Zephaniah Williams were in existence across the coalfield by the summer of 1839. Newport's branch was founded in the Autumn of 1838.
**************
This year we are holding the 13th Newport Chartist Convention, for the third time, at St. Woolos Cathedral. (Saturday 2 November). Coinciding with Half Term, the Pupils March down Stow Hill took place a week earlier on Wednesday 23rd.
Since the first Convention held at the 'Stute' next door to the Westgate Hotel in 2007 - our numbers have grown, the weekend programme has expanded and the Convention is now at the epicentre of the NEWPORT RISING FESTIVAL.
The Convention will be followed at 5pm by a Torch Lit Parade from Belle Vue Park to the Westgate Hotel.
And this year, events are not just in Newport. The Rising is being remembered and celebrated this Autumn in many places within south east Wales - Gwent Archives; Shire Hall, Monmouth; the 'Old Library' Cardiff; at the Gwald Festival (Pier Head) in Cardiff Bay; lectures at Gelligaer and Llancaiach Fawr.
it is vital that the events of November 1839 are seen as a south Wales story. It is equally important not to see the battle at the Westgate as the end of the story.
Our keynote speaker this year is Prof. Malcolm Chase, a regular visitor to the Convention since its early days - Author of numerous books and articles on Chartism - see Item 6 in this edition, an opportunity to read a paper on his recent researches into Chartist petitioning.
Highly recommended is his article in Llafur 2010, v,10 no 3; 'Rethinking Welsh Chartism' which includes a spreadsheet of 66 locations in Wales where he has identified from a variety of sources, Chartist activity from 1839 to the 1850s. More than a third of the places show no known activity in 1839 and of those that do, a third show no later activity at all
Newport has a continuous history of Chartism until at least 1848. - the myth that Chartism died in Newport on the steps of the Westgate inn was exploded two decades ago by one of the organisers of the Convention and one of eMag's Assistant editors, David Osmond (see 'After the Rising: Chartism in Newport 1840-48', Gwent Local History, 98 (2005), pp.8-52). Professor Chase comments "Until David Osmond's admirable article ....in 2005, even the dogged persistence of its Chartists was imperfectly understood".
Since its inception, the Convention has proved to be an 'historical laboratory' attracting to Newport, Chartist historians at the 'cutting edge' of research like Dr. Katrina Navickas who has previously introduced us to her work on protest and the politics of space and place, and generated ideas and techniques that a number of us, notably Ray Stroud has adapted to the 1839 Rising, particularly with his research into the largely ignored Newport Chartists - Charles Waters, John Lovell and Jenkin Morgan - found guilty of treason at the Monmouth Special Commission.
The emergence of the Convention has fortunately coincided with the digital era, which has spawned CHARTISM eMAG. The availability of digitised maps, newspapers, trial documents and family history data has facilitated the work of eMAG's editorial team.
​
Equally importantly, ad hoc collaborative online networks have emerged from the annual Newport Chartist Convention. Diverse specialists are feeding new thinking into the pages of CHARTISM eMAG and presenting ideas that justify print publication. Editor (Les James) plans to join with David Osmond and David Mayer to launch a 'Not For Profit' book publishing venture called 'Six Points'.
We anticipate that we will continue in this project with the cooperation and support that CHARTISM eMAG already enjoys with Our Chartist Heritage, local history societies, libraries and other heritage agencies including Newport Museum and Art Gallery, Shire Hall at Monmouth and Gwent Archives, and that we will be extending our connections across southern Wales.
We will welcome other book proposals, but our first book will be about Zephaniah Williams and Joan Williams. Sarah Richards (see item 8 in this edition Descendants of John Frost), Sue Allen and David Mills will join the editorial team. We have been searching sources that reveal hitherto unknown details of Zephaniah's early life, his father and mother, Joan's family and their children. Although justifiably labelled a 'son of Argoed', his birthplace was the parish of Merthyr. Sarah's finding of the original letter in the National Archives at Kew in 2016, warrants a book that not only re-evaluates this so called 'Confession', but also the life of its writer - and importantly of Joan, who deserves to be considered as a Chartist in her own right.
Les James (Editor) October 2019