Networking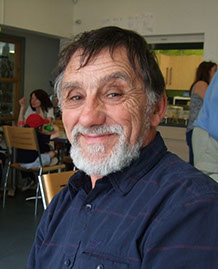 Terry Frost
Following our first Convention in 2007 which was devoted to 'Chartist Ancestors', I blogged "The surprise visitor of the day was Terry Frost Jones from New Zealand, where he has been living the last thirty years. Terry grew up in Monmouth and at school he remembers his history teacher presenting him to the class as 'living history', a living link with John Frost, the Chartist leader. His father, grandfather and great grandfather were all given the second name of Frost, as a mark of their family link. Between 1813 and 1826, John Frost's wife Mary had eight children: John, Elizabeth, Sarah, Catherine, Ellen, Henry Hunt, James (who died at 8 months) and Anne. John Frost had two uncles Edward Frost and William Frost, younger brothers of his father John and they both had families. Terry's precise connection to John Frost requires further research."
Terry has kept in touch ever since. He turned up this summer on a family visit armed with a comprehensive family tree, which he has assembled via the internet with the assistance of family historian, Jean Beech, an Australian who lives nearby in New Zealand. Together we visited Gwent Archives, Newport Museum and the Library. Over the years, I have dealt with many people claiming a Frost connection. A number of people have demonstrated descent from a John Frost, but unfortunately not the Chartist. Frost is a quite a common name. David Williams, when writing his biography in 1939, identified three contemporary Newport inhabitants of the Chartist leader, with the same name but none were related. A few appear to have a possible connection with a descendant of another Newport Chartist, Edward Frost, an uncle of John Frost. So far no direct line from John Frost has been established. People related through marriage have been found, such as Sarah Richards, whose ancestor married Ellen, a daughter of Frost. She, along with Colin Gibson of Gwent Archives, have done more research than most of us on Mary Frost and what happened to her daughters. Whatever the outcome of our joint deliberations, Terry has a surprising story to tell. So if anyone researching their family's history suspects a Frost connection, please contact les.james22@gmail.com and watch this space.
Gelligaer Local History Society
On 28th October at Llancaiach Fawr manor, the Gelligaer Local History Society launches David Mills' eagerly awaited biography of William Foster Geach, the solicitor and stepson of John Frost. Many writers, notably David Williams (1939), presents Geach as sympathetic to the Chartist cause and applaud him for drawing the attention of Frost's defence team to the legal objections that saved Frost from the gallows and his subsequent transportation as the outcome of trumped up charges of fraud by Frost's enemies. In his book, David Mills upsets the apple cart. Geach is revealed as guilty of both profligacy and serial fraud – and a Tory to boot.


"The Man Who Saved the Chartists?"
We look forward to the complementary tale of J.G.H. Owen to be told at the Convention by Peter Strong, once a history teacher at Caldicot. Was Owen really "The Man Who Saved the Chartists?" at the Monmouth Trials. It is heartening to see how the digitisation of the Magistrates Examination documents and the development of the 'Trails to Trials' Project is inspiring a major rethink of the Chartist Trials.
Sylvia Taylor
Many will remember Sylvia Taylor talking in 2007 about her ancestor, Wright Beatty, who was accused of firing a gun at the soldiers inside the Westgate inn. Her story appeared in the magazine 'Who Do You Think You Are?' After more than twenty years sleuth work, she remains on the trail of her family's Chartist past. She is preparing an article for Gwent Family History. At last year's Convention, she produced convincing evidence that implicated Wright Beatty's father in the burning of a hay rick belonging to Thomas Prothero, on the day following Frost's sentence to death. This summer, she discovered that on leaving Monmouth gaol in 1843, Wright Beatty (Betts) sailed to the United States and lived in New York.
Research
Research and writing the Chartist story is alive and kicking in south Wales – check out the Chartist Anniversary edition of the Gwent LHJ.
You want a souvenir for the 175th Anniversary?
You need: Gwent Local History Journal 116 (2014): Chartist Anniversary Edition
It contains:
*Les James, 'The confession of Zephaniah Williams and the 1839 Rising', pp. 3-32
*Colin Gibson, 'George Shell's letter revisited: some perspectives on its use at the Monmouthshire Chartist trials', pp. 33-49
*Christabel Hutchings, 'A juror's tail: the travails of Edmund Jones at thenMonmouthshire Chartist trials', pp. 50-67
*Sarah Richardson, 'Finding Chartism in the family: William Davies of Blackwood', pp. 89-94
*David Osmond, 'Newport and the Chartist Land Plan', pp.95-102
*John Evans, 'William Shellard, c. 1797-1874: an old Chartist fades away', pp.103-116
Price: £5 plus £2 p&p
available from Peter Strong, 27 Woodstock Way, Caldicot, NP26 5HY
strong@btinternet.com.uk
Cheques payable to the 'Gwent Local History Association'
JUDITH JAMES artist
Exhibition: ROUNDABOUT 'ERE - EVERYTHING IS AWESOME!
a wide range of works in different media
includes preparatory art work for her latest commission
Mae'r Siartists Wedi Dod! .... The Chartists Are Coming!
Venue: NORWEGIAN CHURCH ARTS CENTRE
Monday 2nd to Sunday 8th NOVEMBER
11.00 am – 4.00 pm FREE with Paintings for Sale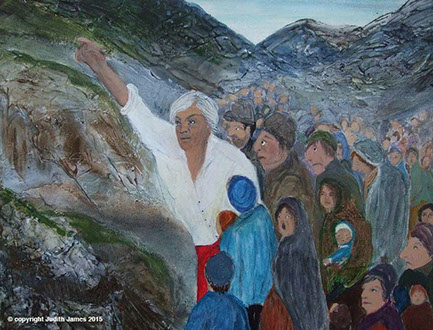 Jonathan Edwards 'Chartist Mural John Frost Square'
Prof Malcolm Chase (Leeds) reports in his Newsletter #11-

'Chartist Mural, John Frost Square, Newport' is a striking poem, written by Newport born, Jonathan Edwards, some years before the mural's demolition.


Interviewed in the Guardian (27 January 2015) Newport-born Edwards described participating in his primary school enactment of the 1839 Chartist March as 'a really important day' in his life.


The poem appears in his collection 'My family and other superheroes' (Bridgend: Seren Books, 2014 – ISBN 978-1-78172-162-9; £9.99).

This book won the 2014 Costa Poetry Award and was one of the five nominated titles for the Costa Book of the Year Award.
http://www.serenbooks.com/author/jonathan-edwards