The Newport Suffragettes
Ryland Wallace
South Wales Weekly Argus, 17 April 1909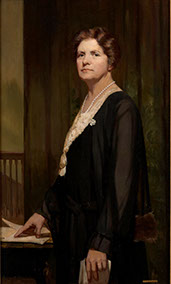 The women's suffrage movement reached its height in the decade prior to the outbreak of the First World War in 1914 when a new breed of activists, the so-called 'suffragettes' – members of the Mrs Emmeline Pankhurst's Women's Social and Political Union (WSPU) – adopted new and increasingly militant methods of agitation and pressure, generated enormous publicity and made 'votes for women' for the first time a central issue in British politics.
Newport was very much part of this development with a branch of the WSPU conducting a vigorous campaign for more than five years. Led by female members of the influential Thomas family of Llanwern Park, local activists held hundreds of meetings in the town and surrounding area and adopted a variety of unconventional methods to publicise their cause, such as hounding politicians, selling their newspapers in the streets and interrupting church services.
Though half a dozen members were arrested and imprisoned for their actions, the majority of the Newport suffragettes did not break the law. Nevertheless, they pressed their cause with great endeavour, commitment and zeal, driven by a deep sense of righteousness and fired by what they saw as the repeated injustices of a dishonest, disingenuous government towards women.
Go to full article published earlier this year
See also Blue Plaque for Lady Rhondda