​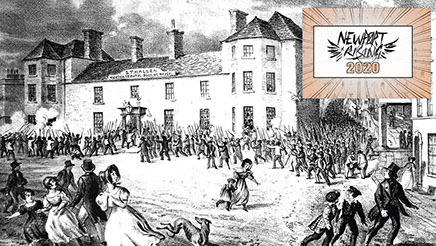 1. Dr. Melinda Drowley, newly elected Chair of the Board of Trustees of Our Chartist Heritage, charts a route forward for the Trust to build on past successes and bring together the historical research of the Convention Committee, the professional expertise of its Education Committee and the arts/culture activities of the Newport Rising Festival.
2. The 'Virtual' Newport Chartist Convention 2020 - 'Retribution' (1)
Peter Strong Henry Vincent: The Monmouth Prison Letters
This item is postponed until eMagazine 21, next year.
3. Les James Where and When was Zephaniah Williams born? Inscriptions on the Williams family's monument (see eMAG no. 19) broadcast Joan's pedigree – 'Second daughter of Llewelyn Llewelyn,. Esq. of Penyderi House, Monmouthshire , South Wales' – an inscription that resonates family pride. Joan was definitely 'a daughter of Argoed' . Was Zephaniah the 'son of Argoed' claimed in local tradition?
4. Sarah Richards: The Voyage of the Usk – February 1840 a story pieced together from documents within the Petitions file at Kew for Frost, Williams and Jones, National Archives (HO18/21) and newspapers accessed through Welsh Newspapers Online and the British Newspaper Archive
5. The House of the Frosts in Bristol: Richard Frame revisits the home of Mary Frost in Stapleton, where she was joined by her husband John Frost, who returned in 1856 from exile in Van Diemens Land (Tasmania).
6. 60 Years of Rape of the Fair Country: Peter Strong critiques the foremost and most popular work of Alexander Cordell, published 1959
7. Cynthia Dereli writes about Hidden Fire – A Novel about the 1830s that climaxes with the Chartist rising, written in the 1860s by Frances Whiteside, wife of the Pontypool Brewer, Barnabas Brough
His poem commemorates the 22 who died at the Westgate Inn on Monday morning 4th November, ten of whom were buried by the military on Thursday night 7th November 1839 at St Woolos graveyard.
9. Finding the Chartist Cave - In the last edition, CHARTISM eMAG's TV star, Dr Elin Jones, went 'potholing'. Here we turn to the Blog of the Tea Towel Company team, who visited the cave in September, two years ago.
Should you decide to take off there on Xmas Day, take the 'tea towellers' advice – Don't venture too far into Tylles Fawr (The Great Hole)
EDITORIAL TEAM
Editor: Les James
Web Editor: David Mayer
Assistant Editors: Peter Strong, David Osmond
Research & Features: Ray Stroud
Family History: Sarah Richards
Academic Consultant: Prof. Joan Allen
Correspondence: les.james22@gmail.com