​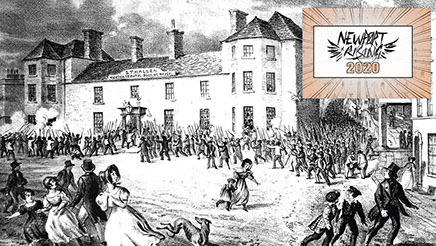 1.In Search of Jenkin Morgan , By Ray Stroud.
Jenkin Morgan was a key Newport Chartist whose name has virtually disappeared from History. Ray Stroud's research so far is presented in an online Video Talk and will be followed by a live Q&A on 22 April 2021 https://www.newportrising.co.uk/lineup
2.Henry Vincent The Monmouth Prison Letters By Peter Strong
On May 8th 1839, Henry Vincent, founder member of the Chartist Convention, Chartist missionary to the west of England and South Wales and editor of the Chartist newspaper, the Western Vindicator, was arrested in London on a warrant issued by Newport magistrates on a charge of "having conspired to produce discontent and unlawful assembly". This was the subject of an online talk by Peter in December 2020 followed by a live Q&A on Zoom.
EDITORIAL TEAM
Editor: Les James
Web Editor: David Mayer
Assistant Editors: Peter Strong, David Osmond
Research & Features: Ray Stroud
Family History: Sarah Richards
Academic Consultant: Prof. Joan Allen
Correspondence: les.james22@gmail.com