​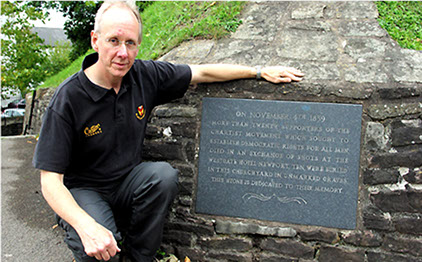 "EVERYTHING IS IN PLACE FOR US TO HOLD OUR FIRST LIVE CONVENTION for two years – we're all looking forward to it. AND HOW!" says David Osmond, Chair of the Newport Convention Organising Committee
See You There?
Saturday 6 November at Newport Cathedral (10am to 4pm) Booking is essential.
Go to https://www.newportrising.co.uk/lineup - where you can also find details of all events associated with this year's Newport Rising Festival.
The Convention Committee are to be thanked for their stamina and commitment to the cause of 'keeping the flame alive' during the Pandemic. During the winter of 2020-21, they ran a series of Zoom presentations and You Tube slideshows, which are still available (see eMAG no. 21 http://thechartists.org/m21-contents.html)
These Winter activities showcased some of the local research that has developed around the annual Convention over its 15 years of existence – notably Henry Vincent, Chartist prisoners and the lesser known working class Chartists, such as Jenkin Morgan
The Pandemic not only confirmed how much present day research depends upon digital sources and digital communication, it also revealed our need to return as soon as possible to a LIVE 'historical laboratory', attracting to Newport, Chartist historians at the 'cutting edge'.
This year's keynote speaker will be Dr Joan Allen who asks how the courts did or did not dispense Justice in the Age of Chartism. (See Article 2) Croeso i'r Gymru, Dr Katrina Navickas and
Dr Steve Poole, keynote speakers of previous years who also plans to be in attendance at this year's gathering.
In this edition of CHARTISM eMAG (in Article no. 4) you can read something of how the first Convention came about in 2007. Also Read articles no. 5 & 6, together with 4 - all represent work that is being done to understand Chartism in the south Wales coalfields.
It's becoming evident that the fruits of all this discovery and re-evaluation needs to be brought together. At the time of the 2019 Convention, Chartism eMAG promised "to provide a voice for the diverse and 'cutting edge' research that the Annual Chartist Convention at Newport has 'platformed' since 2007". The publishing enterprise, Six Points was born. Les James, David Osmond and Ray Stroud immediately opened a bank account for 'Six Points', but Covid stopped the project in its tracks in March 2020. This summer, Six Points came out of hibernation. David Mayer, Sarah Richards and Dr Joan Allen joined to make a team of six. The website was commissioned and is now up and running. Books are on sale, the online SHOP is open and PayPal works.
Last Saturday, 23 October 2021, copies of Six Points first publication Dr David Osmond, The Chartist Rambler arrived from Y Lolfa, the Printers. (GO TO http://sixpointscardiff.com)
Our AIM is to produce and promote high quality books that explore nineteenth century Radicalism, the ideas of Chartism and their historical antecedents, the movement's context and development into 'modern times'.
At SIX POINTS publishers, we have adopted as our name, a popular chant regularly heard at meetings held indoors and outdoors during the early years of Victoria's reign. Launched 8th May 1838 in London, the People's Charter gained the support of millions for its six constitutional reforms – a 'package' intended to win the right to vote and turn MPs into delegates of the people.
We plan to do this in collaboration with interested individuals, historical societies and heritage bodies throughout Wales and beyond.
Alongside new writing, we plan to publish out-of-print texts. In the immediate future, we are seeking joint projects with Newport Museum & Art Gallery, Monmouth Shire Hall, Gwent Archives and Our Chartist Heritage.
Article 3 in the November eMagazine is a review of David Osmond's first publication for SixPoints.