Book Review: by Les James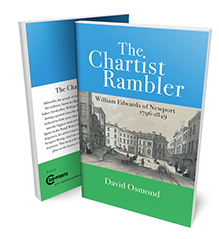 The Chartist Rambler is the first book by SixPoints publishing. It tells the story of William Edwards (1796-1849), a much maligned and half-forgotten figure from the days of the Chartist Rising. Gaoled for sedition in the summer of 1839, and kept 'behind bars' until 1841, has meant that Edwards' achievements were overshadowed by the drama of the 1839 Rising.

His constancy of support for the Charter unto his death was unfortunately damaged by his Chartist candidacy in the General Election of 1841. His willingness to accept money from the Whig candidate, resulted in his former supporters burning an effigy of him in Westgate Square. Osmond puts this event in perspective and convincingly argues that Edwards "helped to ensure the survival of the movement in Newport after the trauma of 1839".
​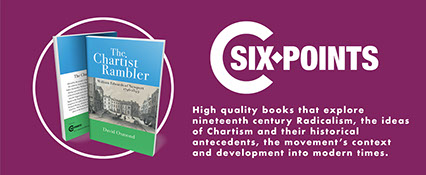 David Osmond is to be applauded for his forensic research and character reappraisal. So much 'new' historical detail brought to publication. He has rescued a Chartist figure 'of fun' from the shadows. Using digital data and library sources, he has found the Edwards family, identified a Chartist sister, two wives who were involved in the campaign for the Charter and children, as well as constructing a hitherto unknown radical 'back story' for William and giving him deserved dignity.
This study shows Edwards to have been a much more important figure in the story of Chartism than the contemporary Monmouthshire Merlin caricatures suggest. Born near Chepstow, a radical agitator and preacher in the Cotswolds near Stroud, in his twenties (circa the 'Peterloo massacre' and onwards), Edwards moved to Newport in the 1830s, working as a baker and then as a bookseller. During 1838, until May 1839, he tirelessly campaigned for the 'Six Points' throughout the Gwent valleys.
Historians have too readily adopted the contemporary newspaper dubbings of Edwards as a 'Mad Baker' and 'Chartist spouter' and failed to grasp the important role he played in building the Chartist movement in south-east Wales during 1838-39. It is no exaggeration to claim that without Edwards' organisation, connections and guidance, the young Henry Vincent from London might not have had the celebrity success he gained amongst the Welsh colliers and their families. Through Edwards, Vincent sensed his audiences. For although Edwards had very limited grasp of their language, he shared their religious hywel and knew the biblical texts to prompt reaction. He could also draw quotations from the Radical 'pantheon', such as Paine and Hunt, that set the crowd alight. Such a skill set, explains why he, alone amongst the Welsh Chartists, was twice indicted alongside Vincent.
Revisionist historians in the1980s, expressed some empathy for Edwards. Ivor Wilks (1984) placed him on a par with "Zephaniah Williams and William Jones" and David J. V. Jones believed he "had a particular affinity with the poorly paid". Neither went any further in their judgements or their research; until now, Edwards remained the 'Mad Baker'.
Three and a half decades later, David Osmond has redeemed Edwards from obscurity and ridicule, restoring him to his rightful place in the history of the struggle for democratic rights - 'a man of principle'.
This book is the first print publication of the "Six Points" publishing venture and we anticipate that readers will be impressed with not only by its scholarship, but also the readability and quality of this 'made in Wales' production. The combination of the cover design (Andy Dark), layout design (Tomos Osmond), printing and binding (Y Lolfa), illustrations from Newport Museum and 'Newport Past' have all set a first class professional standard that "Six Points" plans to maintain in the years ahead.
Les James