​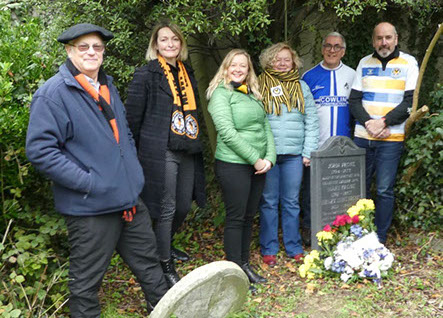 Left to right: Richard Frame, Jess Morden MP, Jayne Bryant MS, Cllr Jane Mudd Leader of Newport City Council, Peter Strong, Cllr. David Mayer Cabinet Member.
Although John Frost is widely remembered in Newport as leader of the Chartist Rising of 1839, he spent the last 20 years of his life living in Bristol. He is buried in Horfield churchyard, Bristol.


Realising that this is close to the Memorial Stadium, home of Bristol Rovers Football Club, a group of like-minded fans from both clubs took advantage of the Bristol Rovers v Newport County match on 23 October to join together to lay flowers in the colours of the two teams on his grave. The group was joined by Jessica Morden MP (Newport East), Jane Bryant MS (Newport West), Jane Mudd, Leader of Newport City Council, and by Richard Frame, who discovered the grave in the 1980s and led the campaign for a new gravestone.


A message with the flowers read, "Rivals on the football field but comrades on the field of democracy" and quoted the words of Jo Cox MP, who was murdered in 2016: "We are far more united and have far more in common with each other than that which divides us."
It is hoped to organise a similar event in Newport for the return fixture in March.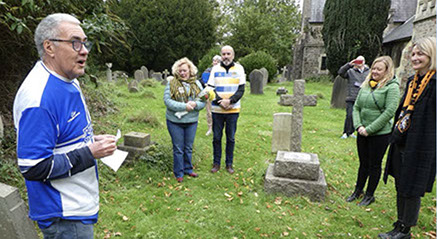 Peter Strong, organiser of the event, a Bristol Rovers fan living in Caldicot, said: "With the Newport Rising festival coming up we thought it was an ideal time to pay our respects to John Frost. I often visit the grave on my way to matches and am delighted to have been joined by Newport fans. A group of us from 'Our Chartist Heritage' have spent some time clearing the undergrowth around the grave and have produced a leaflet about John Frost which has been placed in Horfield church.
​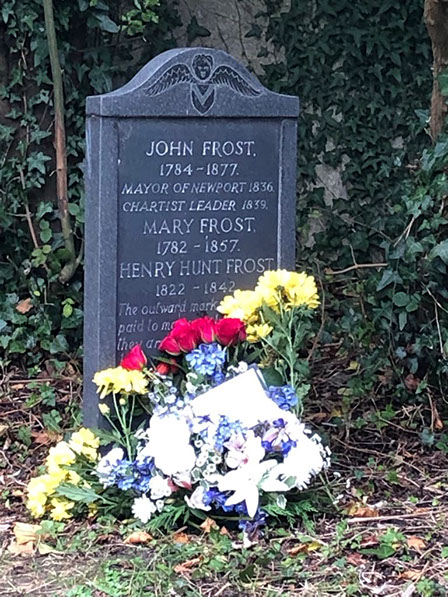 We are very grateful to members of the church for their hospitality, particularly the Rector, Rev'd Canon David McGladdery and Churchwarden Caroline Plaice, and hope to continue to work with the church to raise awareness of its connection with John Frost."
For more information about Newport Rising Festival see www.newportrising.co.uk .