BOOKING HOTLINE Tel:07929775040
For Online Booking GO TO https://chartist-convention-2016.eventbrite.co.uk
Saturday 5 November 09.30 – 16.30
JOHN FROST SCHOOL, Lighthouse Road, Newport, NP10 8YD
Chartist Convention 2016 Programme


Morning Session (Chair Dr. Elin Jones)
9.30 Registration and coffee.
10.00 Welcome and introduction by Dr. Elin Jones
10.10 Peter Strong: Demosthenes' Return: Henry Vincent's 1849 Monmouthshire lectures.
10.40 The John Frost School Choir Chartist Songs
11.00 Coffee/ tea break.
11.15 Dr. Katrina Navickas: The Spaces of Chartism.
12.15 Lunch - Stalls, exhibitions, etc.
Afternoon Session (Chair Richard Frame)
1.30 Dr. Elin Jones and Catrin Edwards: Making History: developing a television programme about the Chartists.
2.15 Malcolm Chase: Looking beyond November 1839.
3.15 Coffee/ tea break.
3.30 Les James and Sarah Richards: Report on recent research "Finding Frost, Williams and Jones"
4.00 Concluding remarks.
Ray Stroud reports:
The key note speaker, Professor Malcolm Chase of Leeds University, is an old friend of the Convention and this time Malcolm is looking at how Welsh Chartism fared in the aftermath of the Newport Rising of November 1839.
​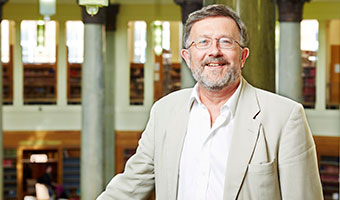 Professor Chase has published extensively on Chartism, notably Chartism: A New History (2007) and The Chartists: Perspectives and Legacies (2015). His article 'Rethinking Welsh Chartism' in Llafur v10, no3 (2010) is a landmark revision of Welsh Chartism historiography.
Dr. Katrina Navickas of the University of Hertfordshire, an expert on radical protest in Lancashire and the West Riding of Yorkshire, has published a wide-ranging survey of the rise of mass movements in northern England, Protest and the Politics of Space and Place, 1789-1848 (2015)
​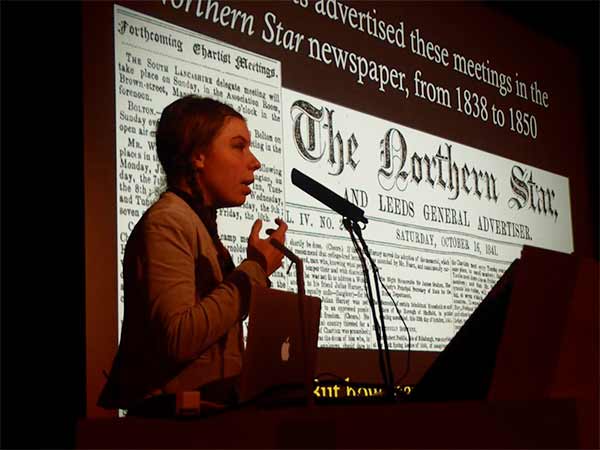 Her presentation will contain elements of this research and, in particular, her work with the Digital Team at the British Library to develop a tool called Political Meetings Mapper. In many ways this approach mirrors some of the areas addressed in Wales by the Cynefin Project and Trails to Trials: Chartism in Gwent.
Historians have always found newspapers to be a vital source of data but, with this new tool, notices of meetings can be now extracted and plotted on layers of historical maps. Meetings listed in The Northern Star, for example, can be used to create a new landscape of spatial patterns that will help shed light on many of the questions that have previously gone unanswered.
​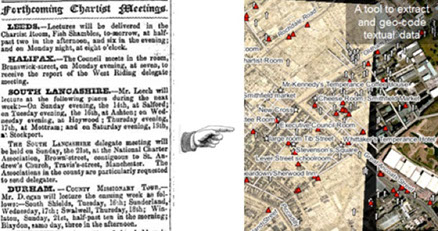 Peter Strong gave us a fascinating insight into the legal process during the trials of the Welsh Chartists in 1840 at last year's Convention. This year he intends to speak on Henry Vincent's 1849 Monmouthshire Lectures
Les James and Sarah Richards are reporting their research on Frost, Williams and Jones at the National Archives, Kew where they have recently discovered the hitherto undiscovered original 'Confession' letter written aboard the Mandarin by Zephaniah Williams on 25 May 1840. (See the no.1 article in this edition, no 10, of CHARTISM magazine)
Dr. Elin Jones and Catrin Edwards will provide a presentation entitled Making History: developing a television programme about the Chartists.
There will also be a number of stalls present where books and ephemera will be available for purchase. In attendance will be representatives from Gwent Archives, Gwent County History, Gwent Family History Association, Newport Civic Society, Merlin Press, the Friends of the Newport Ship, and the Friends of Newport Museum and Art Gallery.
How to get to John Frost school
By train travel to Newport High Street Station. It is not feasible to walk from central Newport to the Convention venue.
Taxis are available near the train station. The cost on a one-way taxi fare to The John Frost School is approx £12.
By bus The bus station is a short walk away from the railway station.
From STAND 10 at the Central Bus Station take a 34, 35 or 36 bus to The John Frost School (formerly Dyffryn High School). The cost of a one-way bus fare is £1.70 Buses stop outside the school.
By car From the M4 motorway leave at J28. Take the A48 towards Cardiff. After 1/4 mile turn left at the first set of traffic lights towards Tredegar House. Carry straight on over 2 roundabouts for about 2 miles. At the T junction turn right. The John Frost School is on your right. There is plenty of car parking at the school.
What about catering arrangements?
A light lunch can be purchased with you ticket. Delegates may bring a packed lunch if they prefer. There are no shops adjacent to the venue.
Acknowledgement:
For the first time, the annual Chartist Convention is being held in The John Frost School, Newport, and we wish to thank the headteacher, Jon Wilson, and the governors of the school for their hospitality. The school (formerly Duffryn High School) now bears the iconic name of the Newport Chartist leader, and pupils will pay tribute to the Chartists through musical and other artistic contributions during the day.