​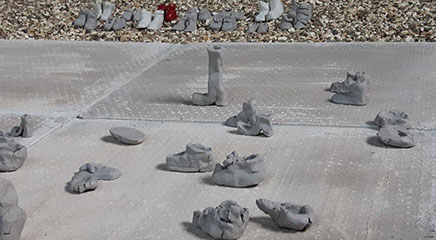 1. MAPPING CHARTISM – THE SPACES of CHARTISM

Ray Stroud reports on an innovative geographical approach adopted by historian Dr. Katrina Navickas of the University of Hertfordshire for the study of nineteenth century Chartism, which she described in her lecture at November's Chartist Convention held at the John Frost School, Newport.
2. RECOMENDED READING: William Foster Geach

David Mills, author of this recent, ground breaking biography about the transported stepson of John Frost, takes a fresh look at Geach, in the light of further and astounding research unearthed by Nigel Young (Newport Past website).
3. THE BRISTOL 'RIOTS' 1831 and the 'Picketing of the Steam Packet' at Newport
The Bristol Radical History Group brought a 'forgotten' story in Newport's radical history to the 2016 Newport Chartist Convention – See the results of collaborative research, conducted on both sides of the Channel and in the National Archives, Kew.
4. NEWSPAPER CLIPPINGS – CHARTIST REMINISCENCES (1) MARY JONES.
From the Weekly Argus (14.4.1917) 'Remembered the Riots' –Mrs Mary Jones, of the King William IV Inn, Cefn, near Newport. (Spotted by Peter Strong)
5. CHARTISM DAY CONFERENCE: 17 JUNE 2017
Sarah Richards reports on the conference hosted by University of Hertfordshire Heritage Hub Local & Regional History Research at the Mill End Sports and Social Club, near Rickmansworth, Hertfordshire, WD3 8QN.
6. FORTHCOMING – 11th NEWPORT CHARTIST CONVENTION 4 Nov 2017
Venue: Newport Cathedral See Provisional Programme
"One thousand small clay shoes, made by the people of Newport walking through the heart of Government in Whitehall, London celebrating Newport's major contribution to British Democracy" by Parry & Glynn, Dylan Moore. George Gumisirisa and Ned Heywood
8. Tolpuddle Martyrs Festival 2017 14 -17 July
The amazing annual Tolpuddle march and festival is nearly upon us. We will never forget the bravery of the 6 men of Tolpuddle in Dorset who fought against oppression in 1834 and were transported to Australia in one of the most unjust actions of that awful century. The massive public outcry was incredible and may well have been in the minds of the authorities just 5 years later when Frost, Williams and Jones had their death sentences commuted to a similar transportation. ( see Les James book on the Frost Voyage )
9. The TUC Centenary production of the Tolpuddle Martyrs
In 1934 the Trades Union Congress commissioned Walter Citrine to write and edit a comprehensive account of the Tollpudle conflict. Here you will find the entire book in searchable PDF format.
10. The Historical Significance of O'Connorville
An excerpt from the Herts Council Conservation report with links to the full report