​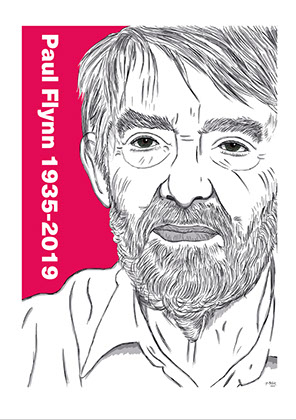 Contents:
1. Editorial Tribute to Paul Flynn, MP Newport West 1987-2019
2. Forthcoming event: Newport Chartist Convention at the Cathedral of St. Woolos on Saturday 2nd 2019
Who's Speaking? What's Happening? BOOK YOUR PLACE
3. Newport Rising Festival 2019 - How to Volunteer
See the VIDEO of the first Festival March last year
4. 'Peterloo' - Peter Strong reports on the events that took place in Manchester this summer marking the Bicentenary of 'Peterloo'
5. A Tale of Two Toms - Who was Thomas Jones Phillips?
"Who Do You Think You Are" visits Chartism in Gwent
6. The Man who arrested John Frost and took away his personal papers. This was a matter Frost raised on his return home in 1856, with no satisfaction, even though the papers never featured in the prosecution evidence at his trial.
7. Listen to Lucy Worsley with Rhian E. Jones and Les James
in Newport talking on Radio 4 about Thomas Phillips the 'Wounded Welsh Mayor'. Ray Stroud asks what happened to the silver plate worth 800 guineas that Sir Thomas was gifted?

8. 1831 The Morgan Family's 'Annus Horribilis' - This September, Tredegar House, Newport, opens a special exhibition, Riches and Rebellion. In the first of a series for CHARTISM e-MAG about the Morgans and the Chartists, Les James reflects on the most calamitous year that the family had experienced for at least a hundred years. The events of 1831 threatened an existential crisis on a scale the family had not known since the sudden death of Sir William Morgan in 1731.
9. William Davies, Blackwood Shop Keeper and Chartist .The latest book by David Mills focuses on the remarkable story of a young Chartist, who was the 'sweet heart' of Ellen, one of John Frost's five daughters and had become a trusted courier for Frost. Present at the secret delegate meeting that took place at the Coach and Horses public house in Blackwood on 1st November 1839, he fled south Wales twice, was charged with conspiracy and riot, provided evidence for the prosecution, but never appeared in court, received no punishment, and yet married Ellen... David Mills is turning stones and revealing matters that need attention.
10. JOHN FROST, The Radical who risked his life for political
reform, South Wales Argus 1st June 2019 - Tomos Povey
11. 'Popular Protest 1830-48' 28 Sept 2019 from 10.30 - 15.30 at Museum of Cardiff, 'Old Library' CF10 1BH
AM. Les James: Chartists in Cardiff - Were there any?
Roger Ball: Burning Bristol 1831
PM. Rhian E. Jones: Rebecca - Popular Protest and Popular Culture
EDITORIAL TEAM
Editor: Les James
Web Editor: David Mayer
Assistant Editor: Peter Strong
Research: Ray Strong, David Osmond
Correspondence: les.james22@gmail.com