David Garner: Call and Response
​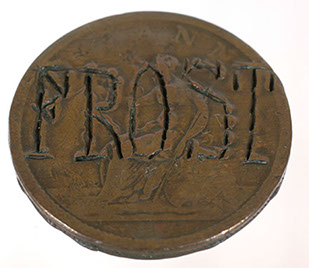 4 Nov 2016 – 14 Jan 2017
Newport Museum & Art Gallery presents new work by artist David Garner.
In Call and Response, Garner presents two works that are intrinsically linked and inspired by a coin engraved with the words 'Frost' and 'set him free', in the museum's Chartism exhibition.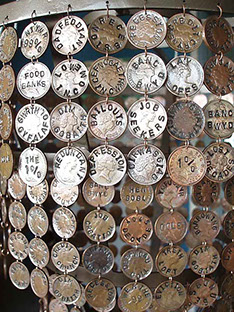 Pennies for the People (2015) is a chandelier, a symbol of decadence and associated with opulent lifestyles, however in this instance it is constructed from coins with a monetary value of a mere £11.52. 576 two pence coins have been hand stamped with bilingual words relating to the media vocabulary of austerity. Forming these words, over 5,000 letters have been individually stamped and arranged to fit within the parameters of a two pence coin, sometimes necessitating text speak in order to achieve this.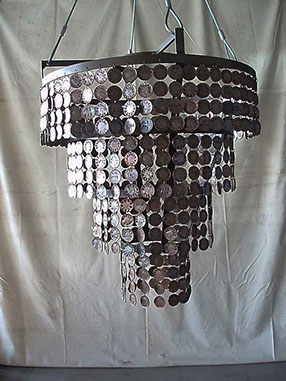 Pennies for the People is presented in a traditional display case within the museum's permanent collection. It was Garner's insistence to integrate the artwork among the museum's diverse collection in an attempt to blur the distinction between art and artefact.
"Perhaps the simplest, yet most appropriate, distinction would be that an artifact is primarily the product of craftsmanship and skill, while a work of art is invested with an emotional, philosophical, spiritual or aesthetic quality that reaches beyond. It has an ambiguous something that is not always easy to define, perhaps a special element that elevates it from the realm of workmanship to a more-significant level."
Presented in the upper art gallery is Call and Response (2015), a video inspired by the one-off installation Pennies for the People, with the improvised harp response by Rhodri Davies at the Chartist Cave, Llangyndir. Call and Response slowly reveals the chandelier as the light source of the cave, and as that which casts light upon the stark vocabulary of austerity.
There will be a free artist talk, and musical performance by Rhodri Davies on 23 November at 19.00 in the Art Gallery.
For more information please see:
http://www.newport.gov.uk/heritage/Homepage.aspx
http://www.davidgarnerartist.com/