A Metamorphisis in REENLAND*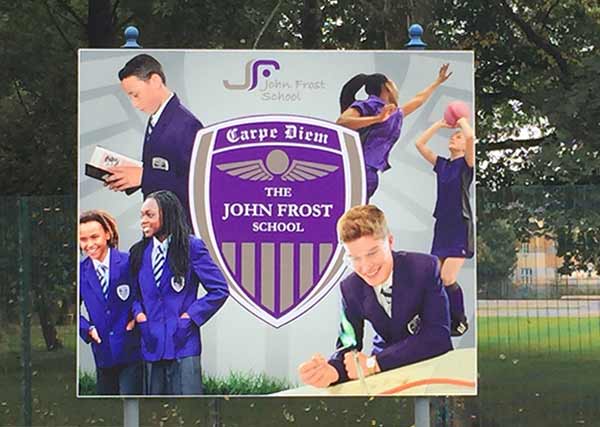 CROESO! The John Frost School NP10 8YD welcomes Chartist Convention 2016


"We've done very well in recent years, we've launched another new phase in the school history"

These were the words of head teacher, Jon Wilson, when John Frost School opened its doors at the start of Autumn term 2016.
To get there, you still need to follow the road signs to 'Duffryn High School'. The Highways authority are in the slow lane when it comes to signage. But Google and sat-navs are up to date and the journey's worth taking. A new school is emerging on the Lighthouse road in west Newport, amongst the reens* of the Wentloog Levels.
Those who attend the Annual Chartist Convention on Saturday 5 November 2016 are in for a pleasant surprise. The contractors are 'to the wire' on the renovation of the central building on this three building campus. The Convention meets as Stage 1 of the project reaches completion. It is the first public use of the school's capacious and modernised school hall, with 'state of the art' digital equipment and staging. This is going to be the best accommodated and most commodious Annual Convention in its ten year history. Throughout the day, pupils will pay tribute to the Chartists through musical and other artistic contributions.
The new school name is an imaginative choice. For John Frost's name resonates throughout Newport today, as it has done since the late nineteenth century when he died in 1877 at the age of nearly ninety-three. Close to a traitor's death in 1840, by hanging, with his body beheaded and quartered, he was saved by a sudden change of mind by Lord Melbourne's government. Together with Zephaniah Williams and William Jones, he was reprieved and transported 'for life' to Van Diemens Land (Tasmania). Since the centenary in 1939, John Frost has been hailed by every generation as a champion of liberty, a campaigner for civil rights.
Mr Wilson said: "Five out of six points on the Charter are the basis of British democracy, it should be something people are very proud of. We represent people from very ordinary backgrounds. We wouldn't be here if it wasn't for people like the Chartists and what they did."
He told the South Wales Argus, "We're at capacity with 1,200 students and growing. We've done very well in recent years, we're hoping it will launch another new phase in the school history. Estyn said we were a good school, we now want to be an excellent school."
Stage 2 of the work, an updating and extension of the western building, is underway and that will complete John Frost School. Then the site of the vacated eastern building will be converted into a separate and new Welsh-medium secondary school.
Frost and Education
There's no doubt John Frost would be very pleased to know that his name has been given to a fast improving secondary school in his home town. Born 1784, Newport was a town without a school during Frost's childhood. The lack of a good academic free school in Newport was something John Frost complained about throughout his life – and he blamed the Morgans of Tredegar Park for a lack of generosity. It's possible that Frost was sent to a school in Bristol, but for how long and where is unknown. Frost never sang the praises of any school. However, from a young age, he was a voracious reader of books. His grandfather taught him to read and he must have joined the bible classes at his non-conformist church in Mill Street. It was not until1815, when Frost was over 30 and a father of his first two children, that Quaker teachers came to Newport to run a non-conformist British school. At the very time of his departure to Van Diemens Land in 1840, the Church, with patronage from Sir Charles Morgan, got round to opening a National School in Commercial Street.
This foundation was a response to the claims of the government school inspector, Hugh Seymour Tremenheere, that inadequate provision of schooling was a major cause of the Chartist disturbances. In the year 1856, when Frost returned from Tasmania, a Ragged School opened in Llanarth Street. Speaking to the large crowd who turned out to greet him, Frost railed against the Morgans of Tredegar Park accusing them of stealing Church lands on Stow Hill that at the time of the Reformation were intended to endow a school in the town.
John Frost School stands on land that until the 1950s belonged to the Tredegar Estate
*The reens are man made ditches established in mediaeval times to drain the low lying coastal wetlands between the rivers Taff and Wye.
DON'T FORGET TO BOOK YOUR PLACE at the 10th Annual Newport CHARTIST CONVENTION 2016
Saturday 5 November 09.30 – 16.30
Venue: JOHN FROST SCHOOL, Lighthouse Road, Newport, NP10 8YD
For programme details, location map and to book your place GO TO  https://chartist-convention-2016.eventbrite.co.uk