The Tredegar Chartist Memorial (Dukestown)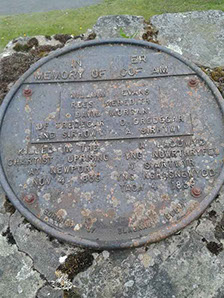 Stuart Stanton writes
Very appropriately Blaenau Gwent Council installed this simple monument opposite the Dukestown Working Mens Club.
Dukestown – named after the Duke of Beaufort - was the first area in Tredegar to be developed for iron ore mining.
The Dukestown Road straggles along parallel to the modern Heads of the Valleys highway. This was originally the main route east and west.
It is here in the field behind the Twyn y Star pub that the Chartists assembled and marched on this road at the start of their trek to Newport.
It is very much a 'forgotten' memorial and deserves wider attention
All three men are listed (from Tredegar) in Appendix 1: The Rebel Dead, p253, Ivor Wilks (1984) South Wales and the Rising 1839, as  William Evans (miner), Reece Meredith (occupation unknown), David Morgan (tinker) p193 ibid: Reece Meredith was actively involved in the organising of the forces (estimated 5-6,000) mustered at the Twyn-y-Star field on Sunday 3 Nov 1839.
Conveniently, in 1839, Dukestown was over the border and in Brecon.- so not under the jurisdiction of the Monmouthshire magistrates and the Brecon magistrates were very distant.